Douglas Adams, 1978
Ford: They make a big thing of the ship's cybernetics. "A new generation of Sirius Cybernetics Corporation robots and computers, with the new GPP feature."
Arthur: GPP? What's that?
Ford: Er… It says Genuine People Personalities.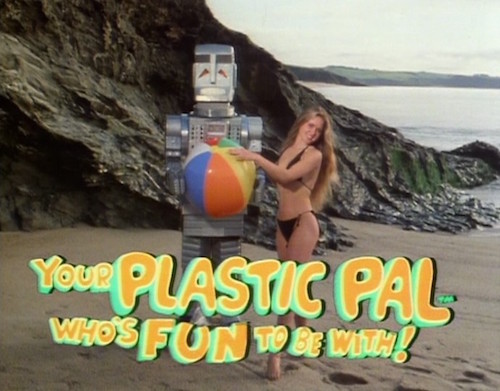 Arthur: Sounds ghastly.
F/X: DOOR HUMS OPEN WITH A SORT OF OPTIMISTIC SOUND.
Marvin: It is.
Arthur: W… What?
Marvin: Ghastly. It all is — absolutely ghastly. Just don't even talk about it. Look at this door. "All the doors on this spacecraft have a cheerful and sunny disposition. It is their pleasure to open for you, and their satisfaction to close again with the knowledge of a job well done!"
F/X: DOOR CLOSES WITH A SATISFIED SIGH
Marvin Hateful, isn't it?
Facebook, 2015

Everybody knows Facebook is creepy. Nonetheless, all this time it never occurred to me to delete my account until it began doing this: Trying to act like a person. Pretending we are on a first-name basis. — Leigh Alexander, The New Intimacy Economy
To get "software with a personality" right, the personality has to be recognisably human. It needs to be the people who made the software shining through their creation, not painting themselves on top of it.
The bigger and more impersonal the software, the more subversive the personality needs to be. It needs to be something a manager would have said no to if they'd known about it before it shipped, not something they figured might make the product play better to Millennials. A spreadsheet that asks if you've had a nice day feels like a creepy marketing ploy. A flight simulator Easter Egg is a human being trying to reach you from behind the code.