This isn't new, by any means, it was discovered in Joe Grossberg's blog, and brought to my attention by Alan, last year. Neither of them posted the pictures though, so this is for posterity.
Exhibit A: the "Head First Design Patterns" front cover: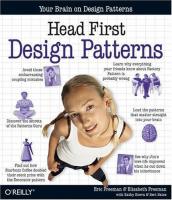 Exhibit B: the graphic from Vagisil's teen centre web-page: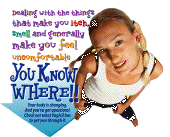 The moral of the story? Even self-assured design-pattern toting geek girls need feminine hygiene products. Oh, and also, it's probably worth the extra few bucks to pay for exclusive use of that cover photo.
4
Aug
Along with all the other lemmings, this week I upgraded to IntelliJ IDEA 5.0. My short review is that it seems to have lots of cool and interesting new stuff in it, but I haven't got around to using any of it yet.
Anyway, after using the IDE for a few minutes, I noticed this strange little guy sitting at the bottom of the screen: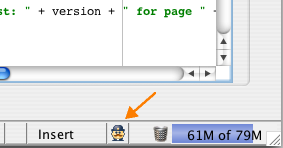 Curiously, I clicked on him and discovered that he manages the degree to which IDEA will interfere with your viewing of a file.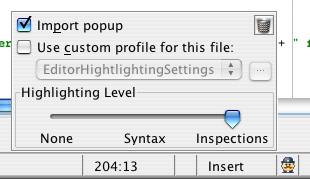 If you turn down the level of code inspection, the Inspector (as I started to call him) will turn his back. It's supposed to indicate he's no longer watching the code, but it looks a little like you've pissed him off by deactivating him, and now he's snubbing you.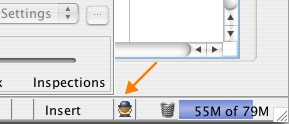 Of course, it's obvious that JetBrains have a lot of big plans for this little guy. I mean, once you've got this friendly character sitting on your screen watching over your code, it's only a matter of time before...