Last time I was shopping for a compact digital camera, I took Ang's advice and got a Canon Powershot A610. The A610 turned out to be an absolute corker: you just point it at things, press the button and it bangs out one great photo after another. I don't think it's possible to take a bad shot with it.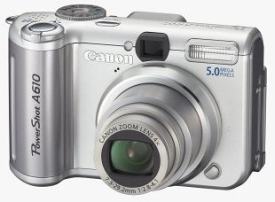 Anyway, the time has come to sell the Powershot and get a new model. The only complaint I have with the A610 is its size. It's just a little too big to stick in your pocket when you're going out drinking, for example. Is it possible to get a compact camera without sacrificing the just-takes-good-photos-ness of the A610? If so, where's best to look?
Any suggestions? Drop me an email, or leave a comment over here.